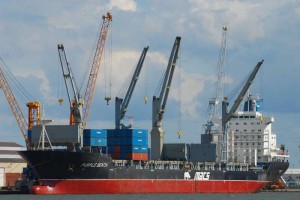 This is MV Purple Beach, container and multi purpose cargovessel, MACS Shipping. She will be our home for the next weeks. Dela, Marc and the car (inside a container) will be travelling for about three weeks on board this vessel from Cape Town to Vigo/Spain. We will be the only passengers, travelling in the owner's cabin, together with 21 people crew.
Departure Cape Town: 25 April 2011
Arrival Vigo/Spain: 11 May 2011
Back in Frankfurt: end of May 2011
See you soon! Schip Ahoy!
Dela and Marc
PS Check out the great link in the comment from Tjark. We will not be able to communicate during the ocean trip, but with this link you can follow the MV Purple Beach on her travels. Thanks Tjark 🙂